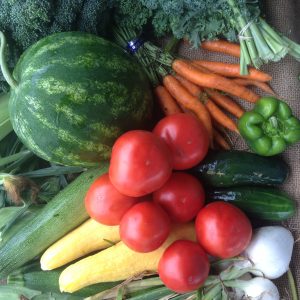 Our 16 week Summer CSA season share runs starts the week of June 14th and runs through September 30th.  Save $100 if you sign up on or before March 31st.

Here's how it Works…
CSA shareholders receive a portion of our farm's harvest weekly from June through October.  Members receive the freshest, highest quality produce at near wholesale cost with an up front purchase of a share of the harvest. This gives our farm the needed seed money to start up and secures a loyal customer base for the season.  Our full share is about a bushel of produce (5-20lbs) each week for 16 weeks. Some weeks will be combined with U-Pick fruits we grow. This should feed a family of four or two vegans for a week.

Benefits to you as a CSA shareholder:
Fresh locally grown fruits and vegetables, harvested at the peak of nutritional value. Grown on the farm!
Our Practices
Though not organic, we are non GMO and we practice IPM with weekly scout visits and recommendations for pest control on sweet corn and fruit. Our vegetables and greens are low to no spray. We use compost and cover crops to benefit soil health and production.
Shared Risk
Every growing season has its unique weather challenges. Occasionally a crop may fail due to conditions beyond our control. Our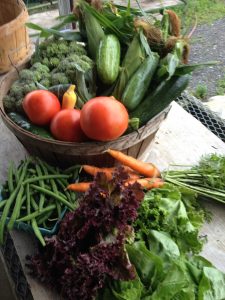 goal is to provide you with an abundant supply throughout the season. Sunshine Farm is well diversified with 15 acres of new PYO small fruits and over 30 acres of vegetables.
Shareholders accept the risk of growing and may have a limited selection of produce at times, especially in early season and during extreme weather conditions. More will be provided during periods of "bountiful harvest".
The Harvest
Shares of the harvest will vary with the season. Here's a sample.
June-July: expect leaf lettuces, radish, spinach, Swiss chard, kale, summer squash, zucchini, and cukes. U-pick strawberries, peas.
August-September: Apples, sweet corn, tomatoes, pepper, eggplant, summer squash, lettuce, beans, carrots, beets, lettuce, broccoli, cauliflower, onions, leeks, melons, peaches.
October: Apples, Sweet corn, tomatoes, peppers, eggplant, broccoli, beets, carrots, winter squash, brussel sprouts, lettuce, pumpkins.
More greens and root crops may be added during the season.
Offering 50 shares this year.
Please help support local agriculture.  Visit your local family farm.  Picked fresh tastes best!
Sunshine Farm – 41 Kendall Ave.  Sherborn,  MA 01770 508.655.5022