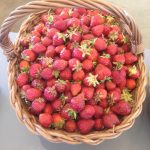 Open 9 AM to noon daily when available
Pricing:
One quart $9.00
two quart-  $18.00
four quart box $36.00
Picking fields open 9 to noon daily when available.
Everyone 3yrs. and older must purchase one quart minimum.
There is NO entry fee.
You must use our container,  pre- purchase before entering field.
Please pick in designated areas only.
Wagon rides are available to back fields to pick. Otherwise its a 10 minute walk.
Covid rules: No masks required for fully vaccinated persons. Masks are recommended for others and keep distance.
Field rules: No Bags, backpacks or strollers allowed inside the picking field.
No dogs allowed on farm. Leave your pets at home.
Pick your row clean of ripe fruit. It helps more fruit to ripen and keeps the field clean for others.
No jumping or stepping over rows!
Children must be accompanied by an adult and within arms reach.
No dogs allowed on the farm.